6 Minutes
By Mac Pavia
📍 Pinnguaq Iqaluit Makerspace in Iqaluit, Nunavut
I grew up with ADHD, and I never felt as though I fit into the public school system. I always seemed to be focused on something other than what was going on in class, like dreaming of ways to build forts in my backyard or how to build a robot that would sort my Lego by size and colour. This meant I wasn't always the best student, and I was quite worried that I might not graduate. But when I heard that a makerspace was opening in Iqaluit, I realized that it was something that was missing from my life. It was a way to follow through on my ideas, no matter how outlandish they might have seemed.
When I began working at the Iqaluit Makerspace, a lot of things started to change for me. I'm not exactly sure what it was that made me mature and change so much, but I feel it had something to do with the fact that I now had 20 children looking up to me, viewing me as one of their teachers and an influencer in their lives. When I first started at the makerspace, we had young students who had no idea how to use a computer. By the end of the school year, they were able to help out some of the newer participants. They had discovered a passion for coding and problem-solving.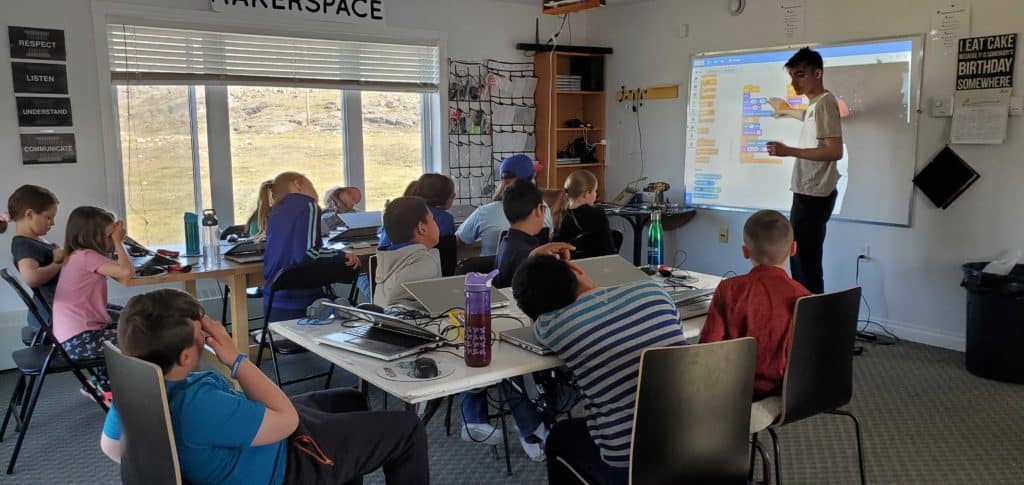 Through those children, I began to feel a little more inspired myself—to understand that I needed to work harder in school and on myself if I was going to be able to provide these kids with the things I wished I had access to when I was their age. Working at the makerspace made me want to learn—and to share my passion for how these spaces can improve community education.
During my final year in high school, for my major project in Social Studies, I was asked to identify a problem in Nunavut and come up with a solution. By this time, through my work at the makerspace, I was absorbing information about different approaches to learning. This experience provided me with the topic for my project: I located several disconnects in Nunavut's public education system, and suggested a possible framework to fix them—namely, that having more makerspaces in the territory would benefit youth and the communities they live in.
A shortfall of school systems is that they sometimes fail to provide an environment in which youth want to learn. After my initial research, I came to learn about the concept of the "growth mindset." Essentially, this holds that an individual believes that, through hard work and determination, they can become smarter than the smartest person in their class. The opposite is the "static mindset," when someone believes that no matter how hard they work, they will never change nor grow.
My experience with Pinnguaq has shown me that having a makerspace in a community can engage and inspire youth and increase their interest in learning. Drawing on that idea, I formed the hypothesis that the public school system in Nunavut could be doing more to cultivate a growth mindset among its students. My theory was that, by opening more makerspaces, we could supplement students' [public school] education by providing safe and encouraging spaces where they are able to fail and learn from their mistakes. My final design for the plan also included having the Elders of the community work with youth participants. (Similar work has been done in Cambridge Bay, around Elders teaching the local language, Inuinnaqtun, to youth and anyone else who is interested in learning it.)
Through my work at the Iqaluit Makerspace, I made every effort to create a safe, encouraging environment where kids could feel free to express their ideas. I've met many children who've found something they enjoy doing, whether it's science, technology, engineering or the arts. It is my hope and belief that, through my work in makerspaces, I might be able to inspire the next great astronaut or artist.
Read the story Katinnganiq: Community, Connectivity and Digital Access for Life Promotion in Nunavut to learn how some of Mac's ideas are being brought to life by the Katinnganiq Makerspace Network.
Mac Pavia began working with Pinnguaq as a student intern at the Makerspace in Iqaluit, Nunavut, running after-school programs for youth and coordinating summer camps. He is passionate about robotics, coding and digital art, and is currently a graphic design student at Mohawk College and an avid photographer. You can check out his work on his website, Mac Visual.