11 Minutes
By Sara Cation and Joel McConvey • Photos courtesy the Victoria Hand Project
Students at the University of Victoria's Biomedical Design Lab are giving a hand to rural and remote communities… literally. While fast, reliable access to prosthetic devices can be difficult to obtain in communities outside urban centres, the process becomes much easier when you have a 3D printer close at hand.
The Victoria Hand Project (VHP) began as a research initiative in 2014, when some students at UVic wondered if they could use 3D printing technology to reproduce a prosthetic hand designed by Nick Dechev, Director of the university's Biomedical Engineering Program. When trials of early prototypes proved popular with communities in Guatemala—so much so that they were asking to keep the hands—Dechev saw the opportunity to create more of them for amputees living in places where access to medical technology can be a challenge.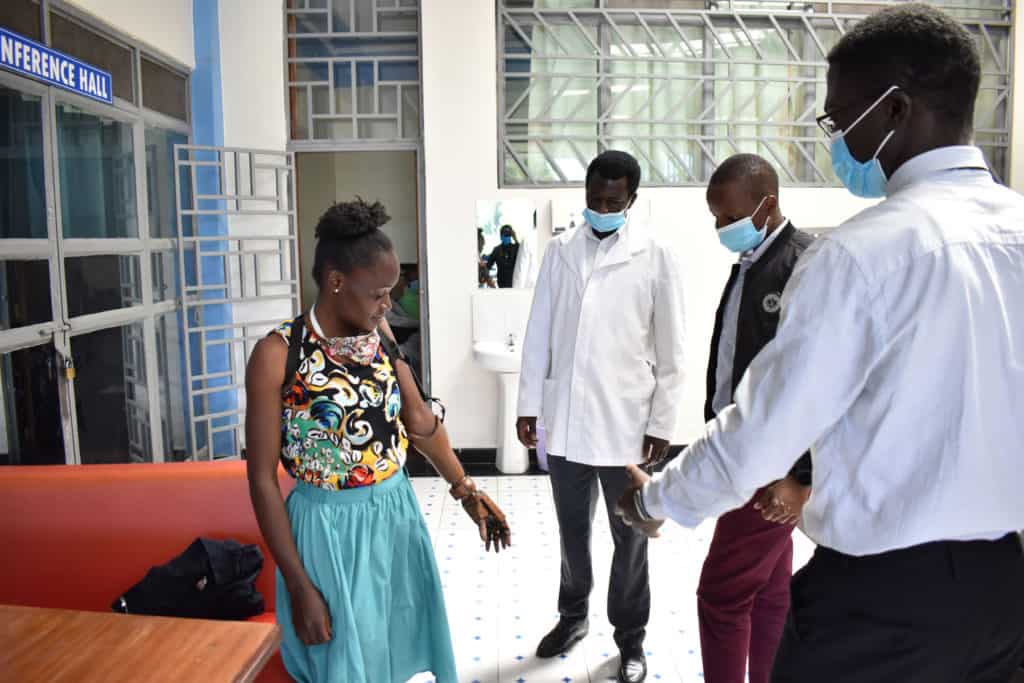 "Guatemala became Nepal and Cambodia, and then Haiti," says Michael Peirone, VHP's Chief Operating Officer. "Our most recent [programs] are in Egypt, Uganda and Kenya."
With its international work progressing, VHP started getting asked why it wasn't working with communities in North America. Enter the TD Ready Challenge, an initiative that funds organizations that develop "innovative solutions for a changing world." The challenge's theme in 2019 was Better Health, and the judges thought VHP's work fit the bill, awarding them C$1 million to expand their operations across Canada and the United States.
Rather than positioning itself as a product provider, VHP includes training in its model, with the goal of enabling communities to develop their own sustainable manufacturing operations. They provide 3D printers, designs and support, but the skills are developed on the ground.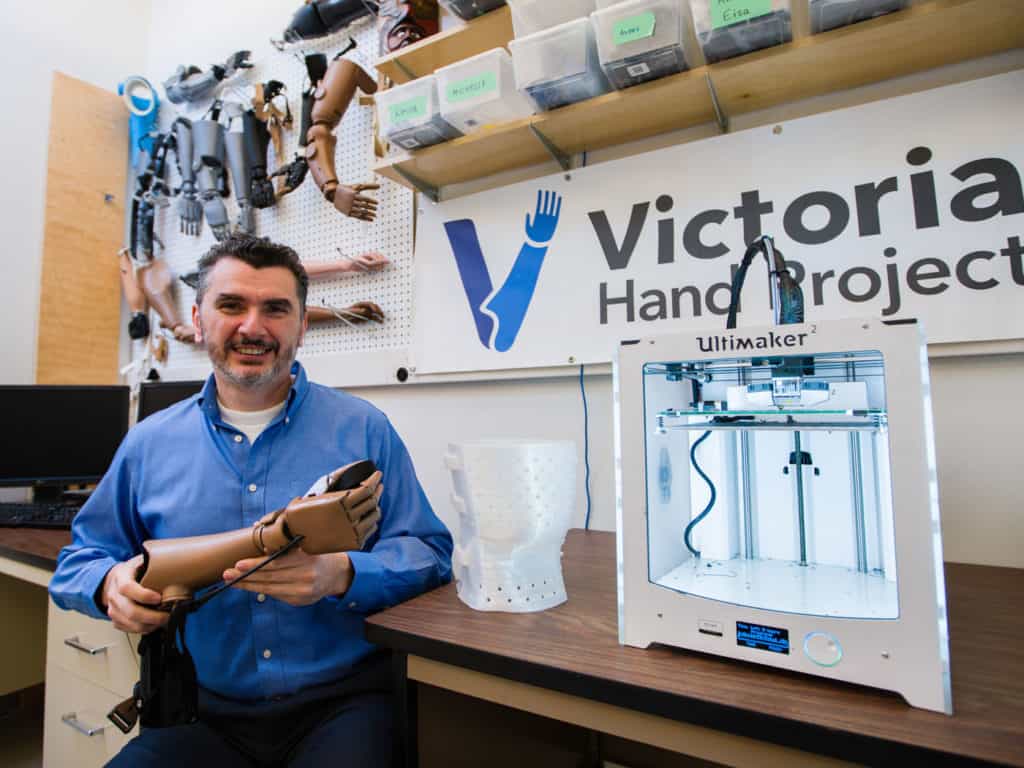 "All the work is done by people in the community," says Peirone. "We didn't really want to go into a country for a few weeks, fit a bunch of prosthetics, leave, and have nothing happen for a while. We want it to be ongoing, so it helps in creating jobs in the community—and a sense of pride, because people are using this cutting-edge technology themselves to produce prosthetic devices."
The hands are made from polylactic acid (PLA), a highly bio-compatible plastic, which means it can be in contact with human skin for long periods of time without causing discomfort. Using a process called photogrammetry, in which multiple DSLR cameras take pictures of an object from many angles, the VHP team generates 3D scans of plaster casts of the wearer's affected limb, which allows the sockets to be custom fitted. The prosthetic hands feature functions like a rotating wrist, a locking feature for carrying bags or gripping objects, and adaptive grasp, which allows fingers to conform around objects of different shapes and sizes. Each device costs less than C$150 and takes 40 hours to print and assemble.
"One of the advantages of 3D printing," says Kelley Knights, one of VHP's student engineers, "is that if one of the parts of the hand breaks, we can print out a replacement pretty easily."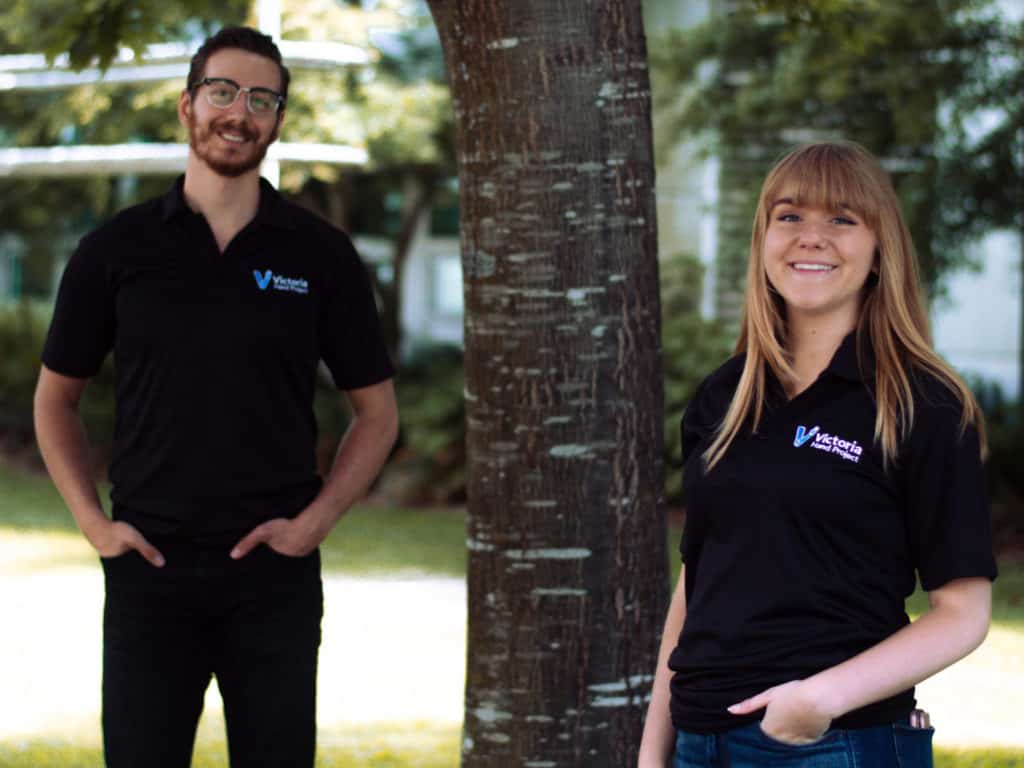 VHP has yet to determine which communities in Canada it will work in. However, in looking at which partnerships in Canada would make sense, they're looking closely at cities in the North.
"Looking at some of these northern communities, even the capitals, they don't really have prosthetics centres," says Peirone. Although rural and remote communities in North America are new territory to VHP, Peirone says experiences with overseas partners have prepared the program for working in a wide range of conditions, and the project team is ready to put its knowledge to work at home.
"I feel like our strength really comes from having done this around the world, eight times now. If we were to try this [expansion] without having done that first, it would be a lot harder. Now, we have a training procedure in place, and we're really excited to get this project going."
Beyond hands, VHP is also in the research stage of designs for 3D-printed scoliosis braces. All in all, they're poised to change the way that prosthetic devices are designed, made and distributed—and for that, they definitely deserve a hand.