By Kim Wheeler
Imagine a world where colonization never happened. Connor Alexander, a Cherokee game designer, did just that, when he invented Coyote & Crow—a tabletop role-playing game (RPG) that launched its Kickstarter fundraising campaign in March 2021. Demonstrating the significant appetite for Indigenous game content, the campaign hit its initial funding goal of $18,000 in 45 minutes. Within ten days, they had raised over half a million dollars, and counting.
This tabletop RPG is akin to Dungeons & Dragons: using a handbook, players create their own characters and take on their roles by describing what their character is doing. Alexander and his team of developers are preparing to launch a 300-page hardcover book that, according to him, introduces "a fully realized fictional world that takes place in this alternate history."
The story of Coyote & Crow begins with a meteor wiping out most of Europe about 700 years ago, setting it back to the Dark Ages. Thus, Europeans never came to North America and the Indigenous population thrived and evolved.
Alexander had been working on Coyote & Crow for a couple of years, doing his own research and personal development on the game, before he started hiring a team of Indigenous experts who could bring their perspectives to the task of world-building. Cherokee Chef Nico Albert contributed a whole section on food, while linguist Travis Roberts created a fictional trading language that is based on real Indigenous languages.
Coyote & Crow is set in North, South and Central America. "They're not really continents in the same [way we define them today] but in the game, players refer to North America as Makasing, Central America as Azayang and South America as Abayang," says Alexander.
"We're putting a lot of time and thought into creating a place that not only feels lived in—one of our goals was to create something that felt optimistic and hopeful but was not a utopia, and did not fall into a lot of noble savage tropes."
The game is aimed at both Indigenous and non-Indigenous players, which creates some unique challenges.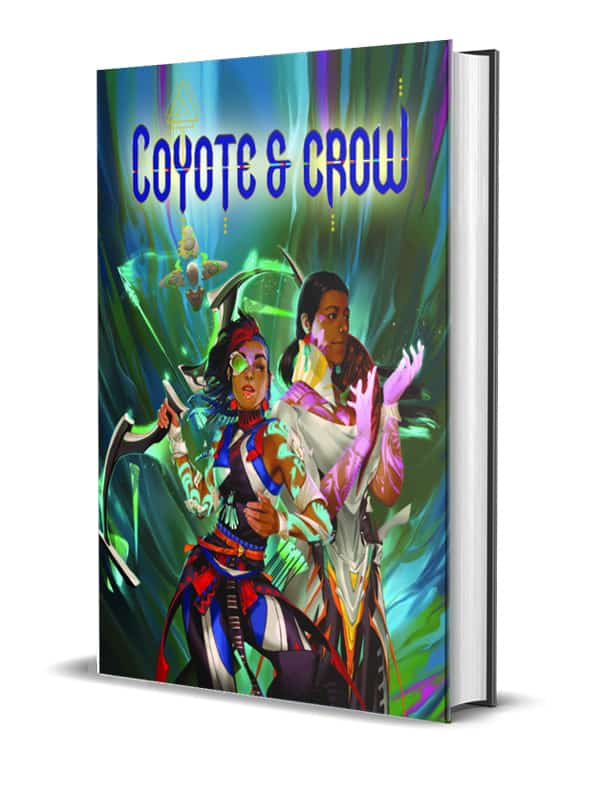 "We had to create snippets in the game where we say, 'Hey! If you're Native we're inviting you to skin your culture and heritage over this role in a way that adds flavour to the game. And if you're not Native, we ask that you don't do that and just stick to [the predefined game role],'" said Alexander.
Twelve fictional nations populate the game and those encompass several tribes. (It is an American-made game, so their use of the term 'tribes' would be known in Canada as First Nations).
"What does 700 years of innovation look like for [Indigenous] cultures who didn't have to worry about colonialism and all the ripple effects?" asks Alexander. It will be up to players to answer that.
As for what happened to the Europeans when the meteor hit them? Alexander's answer is: "I don't really care."
For Coyote & Crow, the future looks bright. Following the huge success of their Kickstarter campaign, Alexander hopes to have the game to their Kickstarter backers by the end of 2021 and in stores in time for Christmas. However, he acknowledges that classic comic book warning about what comes with great power.
"I'd love to say it feels joyful or that I'm ecstatic [about the Kickstarter results], but the truth is that with this kind of success, we have a lot more responsibility now," he says. "We're good with that. It just means that it's even more vital that we provide a quality game that speaks to our Indigenous players and presents a positive view of Indigenous people to our non-Indigenous audiences. These kinds of opportunities don't come along often and we want to have the best impact we can.
"I hope other publishers take note that this kind of representation isn't throwing people a bone. It's what people want."
---