15 Minutes
---
New Team Members at the Iqaluit Makerspace!
This past December one of the linchpins of Pinnguaq, and the only Iqaluit Makerspace Manager we had ever known, Gail Hodder moved on to the Skills Canada Nunavut program. We will all miss Gail so much, but at the same time, we are beyond happy for Gail and wish her the best in this new challenge. We know that she will continue to be an incredible asset to Nunavummiut wanting to explore technology.
Gail joined us at a time when we were shifting our mission as an organization. We were focused on the challenge of how to make our programming more sustainable. We threw around the idea of a Makerspace, a permanent space to offer our programming and suddenly one became available in the old Yoga studio at building 754. Within three weeks we had a deal for the place and a person to help run it. Over the next year, Gail Hodder took us from the idea of what a space for STEAM education in Iqaluit might be to a "must be" place in Iqaluit and ultimately helped us define what a Pinnguaq Makerspace is, does and means to a community.
As our organization grows, the people on the ground in communities are the true "face" of Pinnguaq. All of us, every partner, colleague and participant who met and worked with Gail loved what she did for us and what she brought to the table. We could not have asked for a better face representing us in Iqaluit and we're excited to see the work Gail will do with the Skills Canada program.
---
Introducing Michael Foote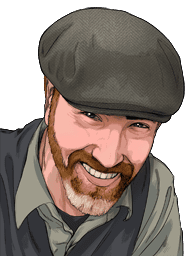 Michael Foote joins our team as the new manager for the Iqaluit Makerspace. Michael is a lifelong learner and educator, with trades training in carpentry and auto mechanics, as well as holds advanced degrees in Biology, Psychology, Biophysics, NeuroScience and Medicine. He is proudly Metis and has worked as the president of the Aboriginal Health Interest Group at McMaster Medicine. He also has 30+ years of computer programming experience, including robotics and biomedical device design.
Michael has been getting his feet under him in Iqaluit since mid-September. As he assumes command of the ship, the Iqaluit Makerspace will continue to engage with the community in order to tailor programming services to the wishes of the community as a whole.
This will involve more hands-on programming, like sewing machine repair, robotics club, and a focus on digital music and media production (with a newly built audio/video studio in the space) and so much more.
Organizations like ours go through change on a regular basis, and as much as they are opportunities to reflect and celebrate what our successes were, they are a chance to define where we are still going, and what that will look like. We're delighted to have Michael leading the charge into 2020.
---
You might also like