7 Minutes
By Maria Alejandrina Coates
For the Government of Canada's 2019 Smart Cities Challenge, Pinnguaq partnered with a group of Nunavut-based organizations to submit a proposal on behalf of the 25 municipalities in Nunavut. Their objective, as outlined in the government's challenge statement, was to address how communities could implement protective and preventative measures to reduce the risk of suicide in Nunavut—which is 10 times the national average. Specifically, the challenge required applicants to propose a plan to "increase the amount and accessibility of peer support networks, educational resources and creative outlets that promote positive mental health to all Nunavummiut."
The resulting proposal—Katinnganiq: Community, Connectivity and Digital Access for Life Promotion in Nunavut—was ultimately awarded one of the challenge's C$10 million prizes, and has now been formalized as a Nunavut-based not-for-profit organization called the Katinnganiq Makerspace Network (KMN). KMN's mission is to implement and administer the project: a multi-faceted effort to create a network of both digital and physical community hubs (makerspaces) in up to 25 communities in Nunavut, offering opportunities for youth to connect and share knowledge, learn skills through culturally sustaining activities, and to express themselves through creative outlets as pathways to mental wellness.
In part, the project has been designed to refocus the narrative on positive foundations in Nunavut communities—mental wellness and "life promotion"—through the creation of spaces where learning is achieved through exploration, collaboration and creative play. Over the past few decades, makerspaces have grown from a niche movement into a vibrant, widespread culture, often characterized by its combination of digital fabrication, open hardware, software hacking and traditional crafts, built on an ethos of innovation, openness and skill sharing.¹ Makerspaces in Nunavut offer gathering places for people of all ages and backgrounds to come together to share, learn, create, experiment, play and have fun. They offer a safe, communal space to bring youth and Elders together to exchange knowledge, access tools, work on projects, learn new skills, share stories and create their own experiences in their own language.
What are commonly referred to today as "21st-century skills"—things like critical thinking, problem-solving, innovation, creativity, collaboration and communication—have been and continue to be the guiding principles built into Inuit Societal Values, known as Inuit Qaujimajatuqangit or the "Inuit Way of Knowing." These are:
Inuuqatigiitsiarniq—respecting others; relationships and caring for people
Tunnganarniq—fostering good spirit by being open, welcoming and inclusive
Pijitsirarniq—serving and providing for family or community, or both
Aajiiqatigiingniq—decision-making through discussion and consensus
Pilimmaksarniq/Pijariuqsarniq—development of skills through practice, effort and action
Piliriqatigiingniq or Ikajuqtigiinniq—working together for a common cause
Qanuqtuurungnarniq—being innovative and resourceful
Avatimik Kamattiarniq—respect/care for the land, animals and the environment ²
The KMN intends to support education and well-being by integrating makerspaces as central hubs for digital and STEAM-based activities that amplify these Inuit Qaujimajatuqangit principles. Collaboration, creative problem-solving and knowledge-sharing will be key tools for achieving the goals of addressing social inequity, with respect to the digital divide in Nunavut. The project will build on community and individual strengths and capacities while using digital connectivity to create opportunities for intergenerational knowledge transfer and language revitalization. Relationships to the land and environment will be emphasized.
The makerspace network will provide safe, nurturing, welcoming social hubs for Nunavummiut that:
Provide imaginative and engaging programs including recreational, extra-curricular learning and skills acquisition (leadership, technology, interpersonal); the arts (performance, visual, music); traditional cultural/ language activities; peer mentoring; Elder mentoring; and coaching
Leverage digital connectivity where youth have opportunities to connect within communities and across Nunavut's 25 hamlets, share knowledge and express themselves through access to digital tools and technological know-how in new telecommunications technology
Integrate community support, including wellness services, where youth can access social and community services delivered on a "whole person" basis in makerspaces.
KMN's purpose is to is to enable and empower children and youth to embrace the future with confidence, armed with new coping skills and tools, so they can build a personal sense of belonging, meaning, purpose and hope through participation in STEAM activities.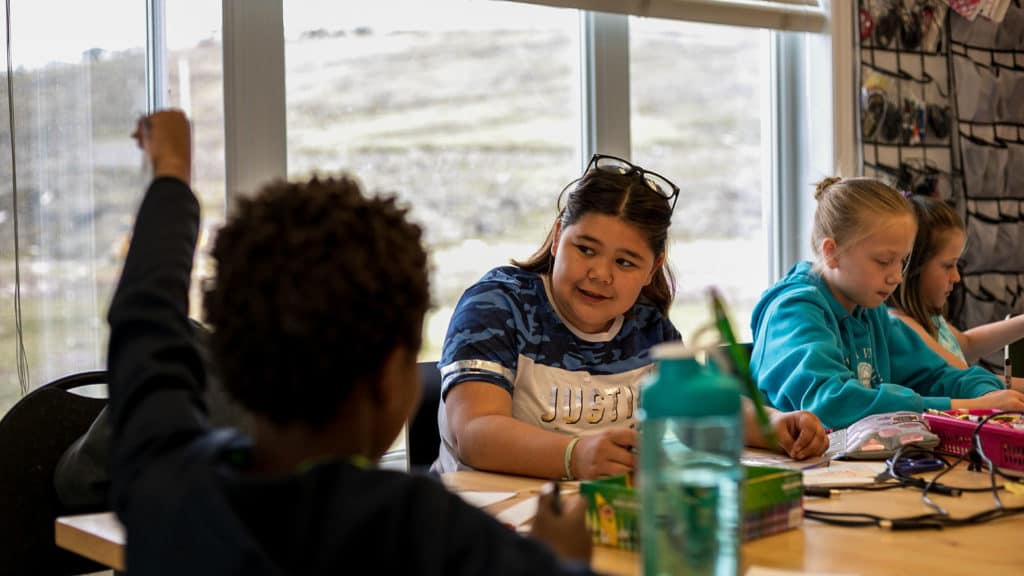 The Katinnganiq Makerspace Network is slated to launch operations in the fall of 2020, supporting community-led makerspaces with start-up funds and ongoing administrative and logistical support. For more information about the project, please visit the Katinnganiq website or follow developments on Facebook @NunavutKMN.
For more on the evolution of makerspaces in Nunavut, read the story A Place that Makes You Want to Learn.
¹ Taylor, Nick, Ursula Hurley and Philip Connolly, "Making Community: The Wider Role of Makerspaces in Public Life" (conference paper, Association for Computing Machinery, CHI Conference on Human Factors in Computing Systems, 2016), 3 (accessed 15 February, 2019) Research Gate Website
² Education Framework: Inuit Qaujimajatuqangit For Nunavut Curriculum. Nunavut Department of Education, Curriculum and School Services Division, 2007. Web. Accessed 8 Jul. 2018. Government of Nunavut Website