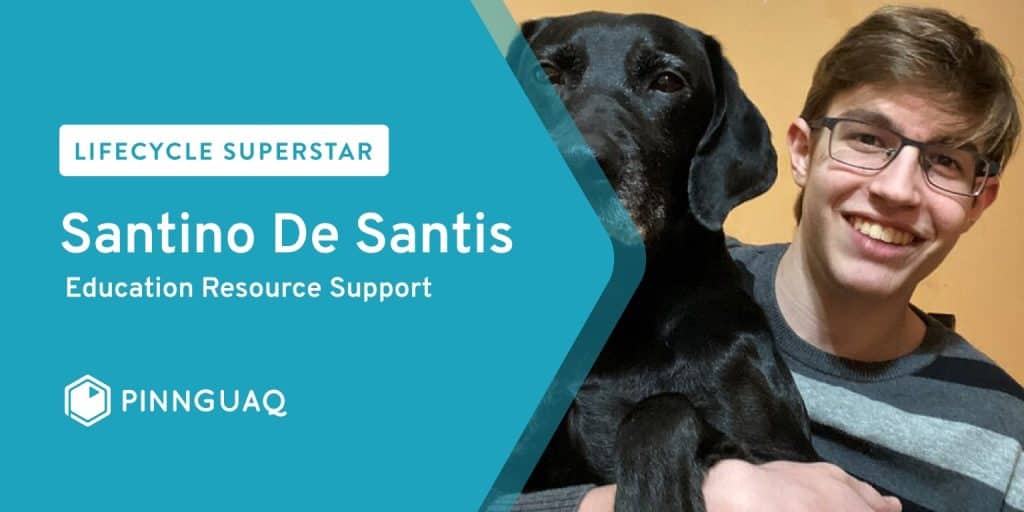 What is a Lifecycle Superstar? Pinnguaq's work is based on our Lifecycle model, and designed to engage learners at multiple stages in their personal growth and success. People connect with Pinnguaq in multiple ways, including as program participants, as Interns, and as staff creating projects and programs. They are Superstars, and we are excited to share their stories.
Santino De Santis' first experience with Pinnguaq as a high school co-op student in 2020. Working with our Education team, he has produced videos and other content to help encourage STEAM learning in youth and adults. He is currently leading Pinnguaq's first venture into Roblox, creating an interactive game to accompany an upcoming issue of Root & STEM.
---
How did you first connect with Pinnguaq?
As a high-school student, I've had many people suggest to me that taking a co-op course would be beneficial with helping me get employment in the future. As I do my schooling online however, all co-op opportunities were digital; this is a great advantage as it broadened the area which I could work in by a ton. My guidance counsellor suggested I do this eCo-op semester with Pinnguaq. So we first connected through my school for eCo-op in the beginning of 2021, and I've been here since then!
---
What has been your favourite experience at Pinnguaq?
It's hard to say; Pinnguaq has so many great people and everybody I've met is positive and excels in their line of work. If I had to pick one experience, it would be attending the virtual Canada Wide Science Fair with my coworkers Sophie and Tanner. It was a blast looking through the different projects and seeing what some of the bright minds of Canada came up with, and being able to represent Pinnguaq there. This is, however, just one of the awesome experiences I've had, in addition to meeting and talking to a variety of awesome people from near and far or developing my first animation.