A new initiative being launched by Pinnguaq and Nordicity focuses on celebrating, supporting and promoting Inuit artists and artist organizations while working with the community directly to find sustainable solutions for challenges in the Inuit arts ecosystem. We consider Artists to include crafters, artisans and makers of all kinds.
The Pinnguaq Association and Nordicity are seeking to work with Nunavut-based Inuit artists to co-design digital platforms to promote Inuit Art. We hope to support Nunavut-based Inuit artists in gaining exposure, showing their work and attracting customers. This project is funded by the Canada Council for the Arts.
"We are looking to create a working group of approximately 15 artists who will be involved in the co-design of these platforms and throughout the lifetime of the project," says Maria Coates, Pinnguaq's Director of Development and Special Projects.
"The aim will be to create digital prototypes that will support artists in different ways. It is important that we work closely and collaboratively with artists to co-design what these platforms will look like."
The project will take place in three parts between February 2021 and March 2023. In the first phase, artists will be asked to participate in five online workshops. The two-hour workshops will take place once a month between February and July 2021.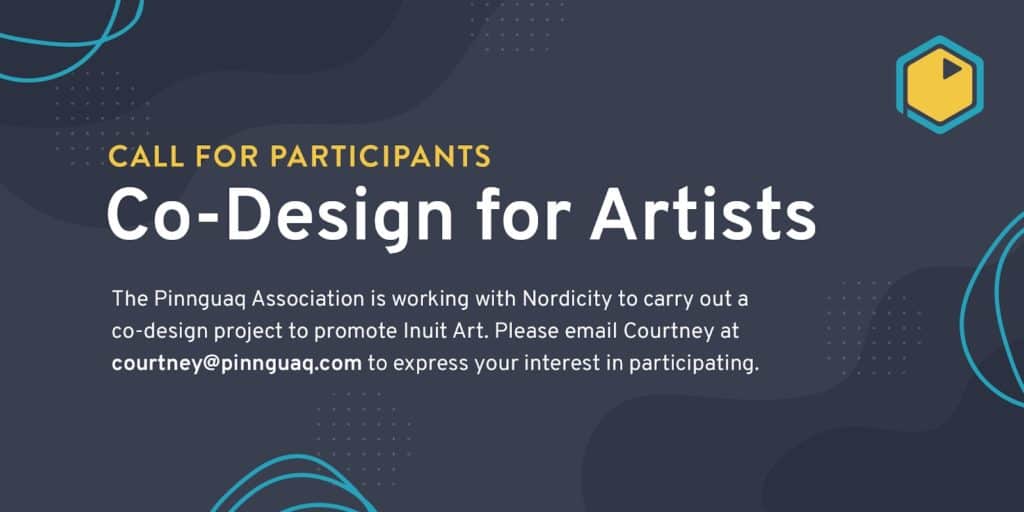 Each participating artist will receive an honorarium of $200 per workshop, be recognized as co-designers, and featured on our website through blogs and stories. Each artist will also receive a free "Artist Connectivity Kit" to use throughout the project to attend the online workshops and after the project to continue their own promotion. To operate these kits, artists will require basic computer operating skills. Support will be available through the Pinnguaq team. The Artist Connectivity Kit includes:
Computer with relevant software pre-downloaded, including Web Browsers (e.g. Chrome), video-conferencing platforms (Zoom), and other free and open-source software like OpenOffice or LibreOffice for word processing
Internet Access Device (e.g. Qiniq Wingle)
Internet Service (4 months prepaid internet per project phase)
Additional necessary materials such as worksheets, notebooks, pencils, erasers
Instructions and support on how to connect to the internet and attend online workshops
Coates says the project aligns with Pinnguaq's mandate to support digital literacy and build agency and skills in technology, prioritizing partnerships with Indigenous, rural and remote communities. Furthermore, Nordicity's significant expertise in the arts sector and, specifically, with respect to digital strategy development, as well as their extensive experience working across the North, makes them a valuable asset to the project as Pinnguaq's primary consulting partner.
As art and digital industries move forward together, Inuit artists and art organizations rely increasingly on digital tools to gain exposure, build an audience, and engage with more digital arts distribution channels. The goal of this initiative is to increase Inuit artists' discoverability and effective distribution.
"We hope to be able to work collaboratively with artists to address some of the issues and challenges in the Inuit arts ecosystem through the development of digital platforms. We are looking to examine how we can create and use digital platforms to better support Inuit art, and the distribution and marketing of their work," says Coates.
"We are looking forward to applying this co-design model to really integrate collective discussion and idea generation, and be able to think about how to create potential solutions together."
Nunavut-based Inuit artists interested in participating are asked to email Courtney at courtney@pinnguaq.com, or call 705-879-5762 to express your interest. Please provide your name, the community where you live and a short description of yourself and your artistic practice and mediums of work. The deadline for submissions is February 12th, 2021.