By Sharon Aschaiek
In a place that is both near and far, there is a cluster of 17 quaint villages brimming with bright ideas and industrious, compassionate people. Many homes here are powered by wind, solar, geothermal and other sustainable sources. One has wildflowers planted to give the bees a chance; another, a farm run by robots. There is a government-subsidized shop selling affordable food and goods, and a hospital that never discriminates against the poor or marginalized. The dispossessed can rest their heads for a while in a community of mini-homes. The landscape may be blocky and the structures crudely built, but the people care about each other and the planet.
This place may seem far away, because human evolution can be slow and bumpy. But it is close at hand. It exists in the digital gaming universe, and it sits very close to the hearts of its inventors—youths of all ages from around the globe who have come together to plan, design and build a better world in the top-selling 3D world-building video game, Minecraft. It's called the SDG Shuffle Village, and it's the brainchild of a passionate STEAM educator from rural New Brunswick who, together with forward-thinking educators right across the world, empowered hundreds of students to devise science, technology, engineering, arts and math (STEAM) solutions to solve humanity's most pressing problems.
"Minecraft is basically its own culture at this point, and it's not just about mining for diamonds or killing zombies," says Benjamin Kelly, an award-winning teacher in the small New Brunswick village of Hillsborough, and a Global Minecraft Mentor. "We can enable our students to use it in more powerful ways for education—to raise awareness about problems and solve them in creative ways."
The SDG Shuffle Village is the outcome of Kelly's ambitious and admirable educational initiative: the Sustainability Shuffle. A multinational, multi-school lesson spanning five continents, the Shuffle involves teachers engaging their pupils, from kindergarteners to college-goers, to address the 17 United Nations sustainable development goals (SDGs). Adopted by all UN member states in 2015, the goals are a universal call to action as well as a blueprint for ending poverty, hunger, inequality, injustice and global warming by 2030. Kelly launched the initiative in 2017 in response to the World's Largest Lesson, a campaign the UN introduced the same year to inspire educators to include SDG learning in their practice.
Kelly's vision for the Shuffle was a cooperative global build, in which classes would create 17 villages representing each participating country and focusing on one specific SDG. As facilitator, Kelly started a single shared Minecraft world for everyone to work in, created resource materials for instructors, and organized a calendar where access was automatically "shuffled" from class to class every two weeks. One textured cube at a time, students from Canada to Israel to India to Ireland and 13 other countries built a quasi-utopian 3D world that fulfilled Kelly's vision of "STEMpathy": learning that engages the head and the heart.
"The Sustainability Shuffle came from me considering what would be a global topic that everyone would care about—the SDGs are a topic that unite us all. They're a natural fit for teaching both STEM and empathy, because you are solving practical problems for all of us, not just for yourself," says Kelly.
Kelly teaches at Caledonia Regional High School, which serves 247 students in Grades 6 through 12. Caledonia is the only high school in Hillsborough, a 13 square-kilometre village situated on the Petitcodiac River, the eastern gateway to the Bay of Fundy. For Hillsborough's approximately 1,300 residents, recreation often happens in nature—hunting, fishing and riding horses. The village is known for birthing a Father of Confederation—a museum pays tribute to William Henry Steeves—as well as for being the province's centre of gypsum mining in the 1900s.
Like other schools in rural or remote regions with relatively small populations, Caledonia wasn't flush with resources for computer hardware and software to allow for using Minecraft actively in teaching. But that didn't deter Kelly, a technophile—as an eight-year-old he got hooked by his family's Commodore 64—who innately understands the value of using digital tools and programs to make learning meaningful and fun. In 2015, he began noticing growing buzz about the game among his students as well as his then six-year-old son, and began experimenting with it. Soon after, he decided to organize a version of the TV reality game show Survivor that incorporated STEM competitions. In 2017, he led his students in creating a Battle of Vimy Ridge tribute to mark the centenary of Canada's celebrated but costly military victory in the First World War. "I don't teach Minecraft, or in Minecraft; I teach lessons, and let students show their understanding through Minecraft," he notes. Kelly came to fervently believe in the game's educational value, and decided to start raising funds to buy more iPads for his school. Over the last two years, has been able to raise about $200,000 through several educational grants from organizations such as the World Wildlife Fund and corporations like Staples and Best Buy.
"For rural schools, it's tremendously tough to bring in the solutions you need to take game-based learning to a new level," Kelly says. "It's not going to change from the top down, but by teachers fighting to get what they need."
Kelly is not alone in using Minecraft as an educational technology: in recent years, more and more educators worldwide have discovered the 11-year-old video game's pedagogical merits. The 11-year-old video game is now used in numerous K–12 schools worldwide to teach curricula in subjects such as math, science, social studies, languages, critical thinking, and even social and emotional development. Several studies attest to its strengths in bolstering students' understanding and enjoyment of math concepts; promoting cognitive, affective and psychomotor functioning; and increasing students' motivation, collaboration skills and computer-science competencies.
When Microsoft bought Minecraft in 2014 for USD2.5 billion and then introduced Minecraft: Education Edition in the fall of 2016, it became clear Minecraft was going to be—well, a game-changer for education. The game is available for free to schools with a Microsoft 365 for Education licence, or else through yearly USD5 subscriptions per user or via a district-wide licensing model. While the rate of Minecraft use in education isn't being tracked, we have long known that when they are accessible, video games are hugely popular among youth as they are played by up to 9 in 10 youngsters, pointing to the potential of the format for learning. The COVID-19 pandemic, which has shifted much of our lives online, may only accelerate the game-based learning trend: in May of 2020, the number of general Minecraft users spiked by 25 per cent, reaching 126 million players per month and 200 million copies sold.
Kelly spread the word about his idea on Twitter, and after much retweeting, the enthusiastic responses quickly rolled in. From 2017 to 2019, teachers and students from 18 countries took part in the Sustainability Shuffle. To guide educators in exploring their chosen SDG with their students, Kelly developed a variety of teaching resources, including a lesson plan that outlines how to introduce the Shuffle and support students in completing their builds and a list of 11 thought-provoking questions that can be used to get students to consider the utility of their builds, how they co-operate with each other, and which SDGs they care about most. Finally, digital cards with build challenges suggest projects to address SDG targets, such as "Build clean and renewable energy solutions for a rural village," "Make internet accessible in remote areas" and—apt for our times—"Design a classroom environment that prevents virus transmission." From there, it is up to each teacher to incorporate STEM concepts and activities into the learning process. Each build needs to include signs explaining the key issues they try to address and, ideally, pertinent facts and figures, and explanations of their prototype solutions. Upon completion, students upload their work to a shared Microsoft OneDrive, so that a class in another country can access and add to the file.
"The idea is that every class takes a turn contributing to the same build, and we hand over the file from one class to the other, almost like [a relay] around the world, and at the end, we have this sweet file with two years of building solutions," Kelly says.
The final result demonstrates the power of using digital gaming to engage young people in STEM learning, and the ways that inspires them to solve real-world problems. Nestled among the forests, mountains and lakes of SDG Shuffle Village are well-planned, progressive communities that demonstrate the creativity, cooperation and compassion of young problem-solvers who are limited only by their imagination. Students in Portugal built a friction-powered neighbourhood in which passing cars generate power to light homes. The Australian village features a toilet contraption that allows for the safe use of human excrement to fertilize crops. Malaysian students focused on providing housing for stateless youth to reduce the inequality experienced by those without citizenship. To solve hunger, Kelly's students developed a climate-controlled biome with a space-saving vertical garden. In the Indian village, a financial literacy bus roams the streets to educate villagers about banking. Other innovations include a windmill-powered home, co-ed professional sports teams, shared economies, underwater farms, a "small-mart" with minimal product packaging, an electric hyperloop for transporting people and goods, and nets that capture garbage in the oceans without harming marine life.

Each of the villages consists of about four to five builds, each made by small groups of students. For instance, Grade 7 math students in France tracked their own water usage for a week, then displayed the results in a colour graph that complements the rainwater collection system in their build. The Swedish village notes that it takes nearly 10,000 litres of water to make just one pair of jeans. A detailed explanation of how solar panels work accompanies the Malaysian Sun-powered homes. Kelly's students explored the physics of using a water wheel to pump river water for irrigating crops. Over in Ireland's village, we learn about why a wildflower garden helps the world's struggling bee population, and how feeding cows seaweed helps reduce their farts, which means fewer emissions of methane, a harmful greenhouse gas.
"Minecraft is an excellent teaching tool; because students are so engaged, you can sneak in math and science concepts, and they barely notice," Kelly says.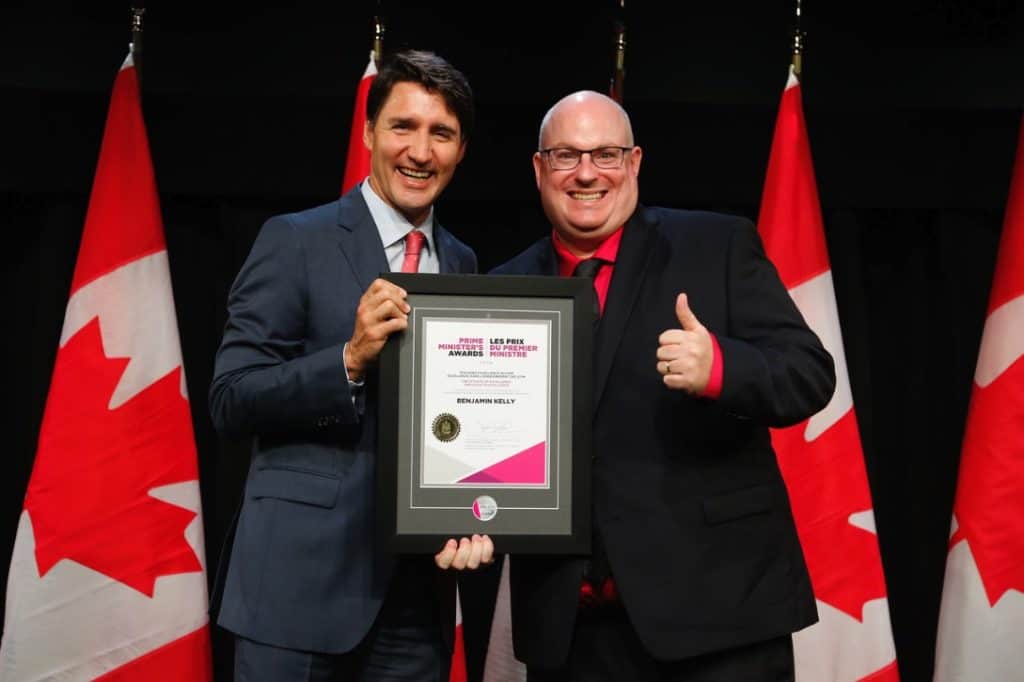 Kelly has bundled all of the components into a single Minecraft: Education Edition file that other educators can explore and contribute to with their students. Going forward, he will continue to develop and share new build challenges linked to specific SDG targets. It's possible to learn more about the project from Kelly's retrospective blog post, the enthusiastic tweets by participating educators (Kelly encourages them to share their work on Twitter using the hashtag #SDGshuffle; others that have arisen are #TeachSDGs and #sustainabilityshuffle) and from Kelly's participation on a panel in MINECON Live 2019. Among those who have noticed Kelly's passionate commitment to STEM education is our country's leader—in both 2018 and 2019, Justin Trudeau awarded Kelly the Canadian Prime Minister's Award for Excellence in Teaching STEM. That distinction is among several Kelly has earned over the years for his extensive STEM education work, which this year contributed to Caledonia Regional High School's being recognized by the Future of Education Technology Conference as the top STEM Excellence High School in North America.Says Kelly: "There is a fear of not knowing what one is doing as a teacher, but you don't have to be an expert at Minecraft—students are the experts, just give them a mission that challenges and excites them, and they will show you what they can do."