10 Minutes
The hardest part of any delivery camp session is when it is ending. On the last day it hits everyone, kids and instructors alike, that it's ending and come tomorrow we won't be getting together for the entire day to create. Rankin Inlet was one of the toughest ones yet.
The session we held turned quickly into one of our best ever. Our permanent curriculum is becoming more defined and our sessions are better structured for it. Rankin Inlet brought out nine 'trainers' on Day 1 and Day 2 and we became fast partners in the success of the program for the younger kids on Day 3, 4 and 5. Race The Sun remained the most popular game we use in te(a)ch and the projects we were putting together were some of the best we'd ever seen.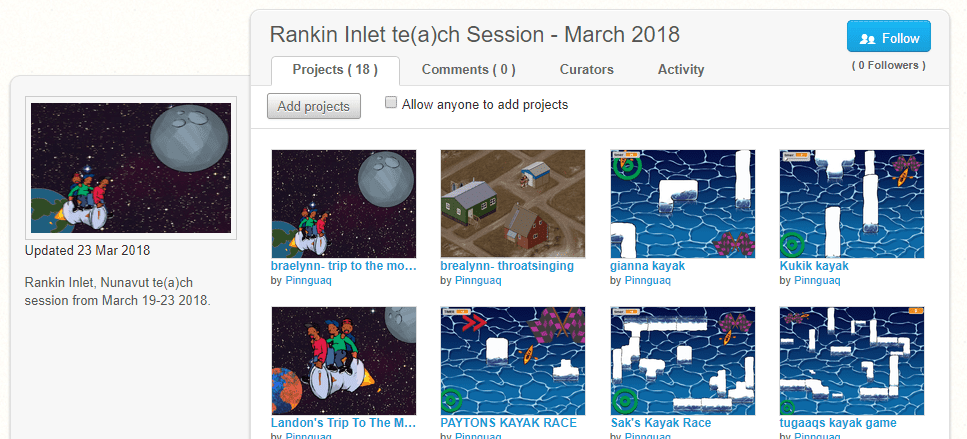 It didn't take much for all 27 participants and our instructors to develop a strong bond. We had additional support from Kathleen Merrit, who hosted our throat singing session, and the Nunavut Literacy Council (specifically Adriana Kusugak), who helped promote the program across Rankin Inlet and ran a parka making session just down the hall.
We created an animation based on the Pangnirtung book Trip To the Moon by Vera Evic, a throat singing game developed by our own Talia Metuq with art by Ian MacLean, a chatbot and Kayak Race, a modified version of Code Club world's Boat Race, developed by Talia Metuq and Brandon Bunnie.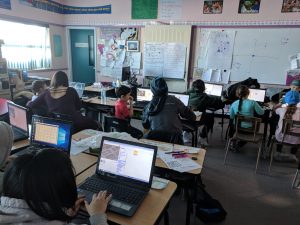 Click to view the entire image gallery!
Through our partnership with the Computers for Success Nunavut program, we were able to provide most of the participants with laptops. Our trainers deserve yet another shout out here as they worked together to help dole out a limited number of laptops to the students who they knew needed it the most. It was an impressive and discreet process that had everyone leaving feeling apart of.
We are on route to Arctic Bay as this is being posted. Each session is better than the next, but Rankin is always going to have a special place in our hearts. The trainers took to the program so quickly that we're confident they'll still push the program forward and the next time we get to come, it's going to be even better.
---
You might also like