20 Minutes
---
Inside Pinnguaq: Pinnguaq Association at 6
March 12, 2013 was the day we were formally incorporated as a Canadian, not-for-profit organization. We had been on the journey for close to a year before that but this was the moment that marked our legal birthday, and the date from which we started to get serious about this idea of a startup in the north. March 12, 2013, we had no employees and an idea to make an app to teach Inuktitut through music and art. Fast forward six years later to 2019, we have 32 employees, four locations across Canada and more projects completed and on the go than we ever dreamed.
As we grow as a not-for-profit organization, we are taking time to refocus, redefine and prioritize our goals. The response to what we're doing has been fantastic and with a chance to finally catch our breath in December 2018, we assembled our entire team to remember where we came from and visualize where we're going. While reflecting our work and the way the organization functions internally, we recognized a pattern within our own hiring practices and our policies that reflect a constant cycle of growth in personal development and education.
Over the last six years, we gratefully have had the opportunity to introduce Pinnguaq Association as an integral part of the entire learning Life Cycle. Through promoting STEAM (Science, Technology, Engineering, Arts, Math) education and teaching kids to code, we have been able to support and contribute to the development of a student's learning journey. The future of the workforce is tech, so we strive to provide the opportunities and resources to help students each step of the way. We can take you from your first coding lesson to your first release of a digital project within the confines of our program and resource supports. We use our Life Cycle model to support the six-core phases of a student's learning journey…
Education: We can teach you your first coding lesson, train teachers and develop curriculum on digital skills. This has been our strength since our first "Code Club" in early 2014 and remains a key priority of our work.
Resources: Through programs like the Makerspace, Computers for Success and the newly launch Pinnguaq Learning Space we aim to provide the resources to create access to the digital tools needed to take advantage of all the benefits technology has to offer.
Mentorship: Pinnguaq is committed to providing meaningful mentorship opportunities through the programmes we administer in order to support an individual's learning journey. This includes the Digital Skills 4 Youth Program, our Twitch streaming, as well as supporting communities to increase their own capacity in local digital programming.
Employment: Pinnguaq acts as a delivery organization for internship programs, designed to help recent post-secondary graduates gain meaningful work experience and the digital skills needed for the jobs of today and tomorrow. In addition, we support and create employment opportunities in the communities we serve.
Production: Pinnguaq aims to provide a space for production that takes ideas from planning to fruition. We have done that to localize existing games into Inuktitut, to create original apps and websites based on our ideas, or those of others. Helping someone go from their first tech lesson to their first release is something we're proud to have recently accomplished with Talia Metuq, an original student from the 2013 Code Club in Pangnirtung, a long time employee and this month celebrating the release of her first game Inuit Uppirijatuqangit.
Advocacy: Perhaps the most important phases of our Life Cycle is the advocacy work we do to create and promote access to digital technology. We support a north > south knowledge transfer, development of local digital resources and a unique but equal role for rural communities at the tech table.
Last year we began moving beyond Nunavut. Our work brought us to Mushkegowuk Aski in Northern Ontario. This year we will be starting a three-year project in Curve Lake First Nations and increasingly bringing our community first approach to other rural and remote communities that are underserved and often overlooked in this field.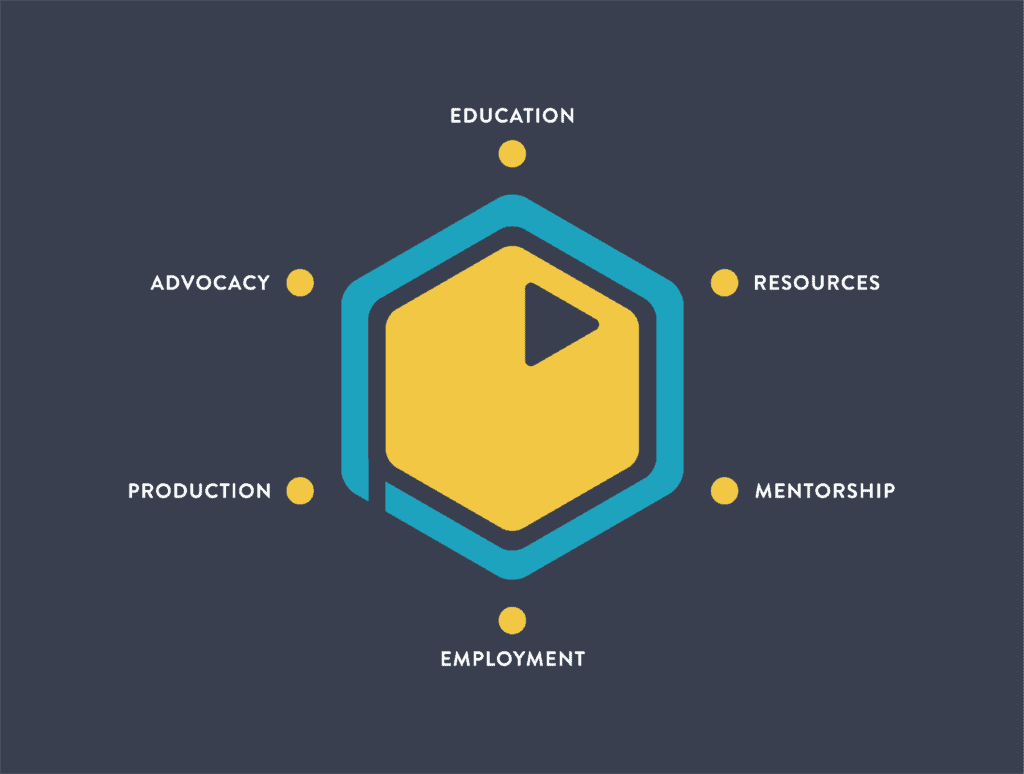 With that in mind we recrafted our mission statement to read:
Pinnguaq Association, a not-for-profit organization, incorporates STEAM into unique learning applications that promote storytelling, health, wellness and growth with rural and remote communities. At its core, Pinnguaq embraces diversity and creates opportunities in order to empower all people.
And that's what it's all about. Six years from now I'd anticipate we will have evolved and grown to the next stage of our work and it will be these six points and this mission statement that will guide us to that point.
---
You might also like