8 Minutes
---
As the economy, and society, becomes increasingly dependent on digital expertise, Pinnguaq's Digital Skills for Youth program is helping prepare young people for successful careers while meeting the growing needs of their communities.
Digital Skills for Youth (DS4Y) is a program funded by the Ministry of Innovation, Science, and Economic Development providing funding for internships with small and medium-sized businesses as well as not-for-profits.
Between 2018 and 2020, DS4Y has facilitated 39 internships across 18 host organizations, totalling 29,404 internship hours through $376,724.63 worth of funding. Of these interns, 76.92 per cent were young women and 71.79 per cent were Indigenous.
"At Pinnguaq, we believe in embracing diversity and creating opportunities to empower all people. Through the DS4Y program, our team is doing just that by connecting businesses and organizations in need with underemployed youth, brimming with potential. Not only do these participants gain useful and meaningful skills, but the businesses and organizations involved also benefit from the added presence of determined, enthusiastic young minds, ready to take their career to the next level," reads a statement from the DS4Y team.
"We're so excited about the success of this program so far and can't wait to see how it grows in the years to come."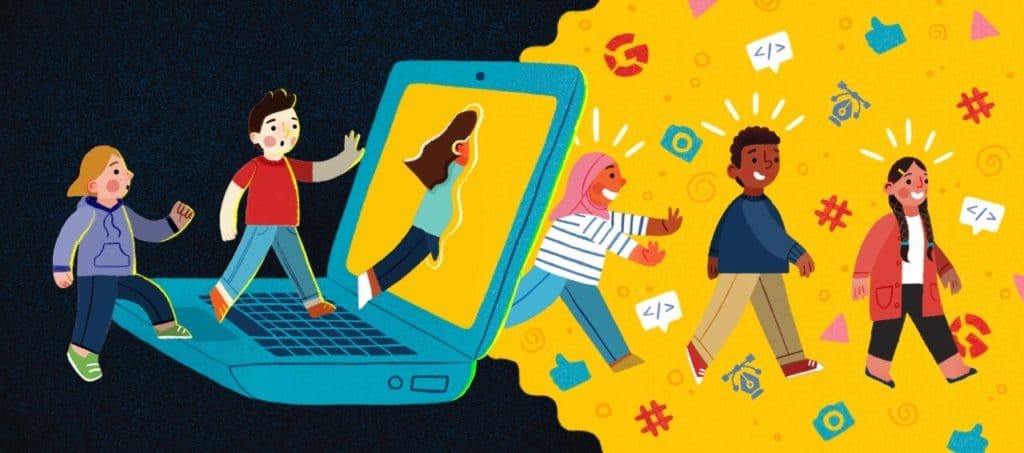 Success Stories
At Wahkohtowin Development GP Inc., a host organization based in Chapleau, Ontario, the DS4Y program has proven time and time again to be a benefit to the business and participants.
"Pinnguaq has helped us with 3 interns so far and we have found the program to be very important to get the digital training our staff need in this day and age of technology. This is our 4th intern we are putting through this program and will apply for a 5th if the program allows it for this year," reports the organization.
"We would highly recommend this program to other businesses. Why? because it helps us cover the costs for training that we may not have been able to offer without this program."
Wahkohtowin has ensured their intern was trained in a data-collection program and has booked training for website management. Additionally, they've taught her how to harvest and prepare materials to build a birch canoe.
In addition to providing training for their intern, equipping them with skills to succeed in this program and beyond, Wahkohtowin has benefited from having a keen up and coming member of their team helping them complete necessary, meaningful work.
As of Oct. 2, some of that work included:
Completing a Vegetation Index Surveys to help reduce the use of herbicides on the forest;
Conducting a field experiment using paired plant plots comparing the brushed plot to the unbrushed plot;
Creating a video showcasing the Birch Bark Canoe Harvest; and
Learning to use Epicollect, a mobile data-gathering tool, and using it in collaboration with Brunswick House First Nation to create an environmental issues survey.
"My experience with the DS4Y Program has been diverse and offers a lot of land-based hands-on learning," said Amberly, who is completing her internship at Wahkohtowin.
"I have had the opportunity to work with many professionals in the forestry sector as well as traditional knowledge keepers. The work we do is meaningful, exciting and I find myself excited about what I am learning."
Other organizations have also reaped the benefits of the DS4Y program, many of whom have been able to hire multiple interns. Some examples include:
Qaggiavut!

Received more than $42,000 to hire four youth interns (Digital and Technical Arts Managers and Project Coordinators)

Alianait

Received more than $19,000 to hire three youth interns (Forestry Compliance Assessor, Guardian Initiative Coordinator and Forest Management Project Intern)

Taqqut Productions

Received more than $59,000 to hire three youth interns (Animator, Director/Editor and Office Manager)
---
What DS4Y Offers
By providing funding for small to medium-sized businesses, as well as not-for-profits, to hire interns, Pinnguaq's DS4Y program gives organizations the opportunity to hire personnel to help their business grow and have a positive impact on the youth in their community. It also offers funding for crucial digital skills training such as social media, graphic design, Google for Business and more that can help businesses grow and reach a wider audience.
Specifically, DS4Y enables training and job creation in software and video game development, coding and app development, network troubleshooting, adaptive technologies, website development, web-enabled learning, social media campaigns and other content development. Eligible activities by the employer can include but are not limited to providing participants with necessary equipment, workspace, workplace-related training, and mentoring to enhance and maximize the experience for the intern.
For 2020-2021, the total funding available can be up to $22,500 per internship in Nunavut, Northwest Territories or Yukon and $25,500 for internships in the 10 provinces. This can include up to $4,000 of digital training of which $1,000 can be on soft skills. Internships can be funded up to 100% (the intern host organizations [IHOs] are encouraged to top-up wages and training).
---
Getting Involved
The DS4Y program is open to employers who are small or medium-sized businesses or not-for-profit organizations with fewer than 500 employees. Interested employers can download an Internship Host Organization (IHO) Application from the Pinnguaq website, here. Employers are asked to select the form most suitable for their location. Employer Guidelines are also available at the same link.
It should be noted that while the job title for the potential intern does not need to include digital skills, the duties performed in the role must have a digital skills component.
To be considered an eligible participant, interns hired through the DS4Y program must meet the following criteria:
Be between the ages of 15-30 (on their start date) who self-define as underemployed
Being a post-secondary graduate is not a criteria for an intern in NU, NWT or YK.
Being a post-secondary graduate is a criteria for internships not in NU, NWT or YK.
Be legally entitled to work in Canada
Be a Canadian citizen, permanent resident, or person who has been granted refugee status in Canada
Must not be in receipt of Employment Insurance (EI) during the internship
Application forms for interested participants can also be found on the Pinnguaq website at https://stg.pinnguaq.com/work/digital-skills-support. All completed applications, for employers and participants, should be sent to ds4y@pinnguaq.com.
Those with questions about the program are invited to contact the DS4Y Team at ds4y@pinnguaq.com or (343)-551-7444.
---
You might also like